Wood Badge Training 2023
October 1 @ 8:00 AM

-

5:00 PM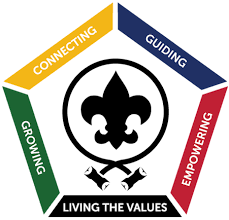 Wood Badge Training 2023 – Postponed to 2025 
Registration is now closed for the 2023 Wood Badge training course offered jointly by Piedmont, Marin and Redwood Empire Councils.  This year's course did not have enough registrants to move forward and will be postponed until 2025. We appreciate the dedication shown by those who registered.
Please contact Course Director Greg Pike ([email protected]) regarding your registration fees and any other questions you may have.
---
Wood Badge is the premier training experience for all adult volunteers, and is open to registered Scouters who desire to develop and improve their interpersonal communication and leadership skills to better serve in Scouting and other areas of their lives.  It consists of five days spread over two weekend sessions, and is hands-on learning in group experiences held in an outdoor setting.  This is followed by a period of up to 18 months in which each participant works to achieve their five unique goals developed during the course training.
The first Wood Badge training was organized by Francis "Skipper" Gidney and lectured by Lord Robert Baden-Powell and others at Gilwell Park in the United Kingdom in September 1919.  Wood Badge training has since spread across the world with international variations.  Upon completion of this training, you will join thousands of other leaders around the world who are dedicating themselves to passing on the ideals of Scouting.  Virtually everyone who completes Wood Badge training feels that the course is well worth the commitment of time and energy as a participant, with positive results across many areas of their lives.
CONTACT E-MAIL
What is Wood Badge?
Wood Badge is an advanced, national leadership training course open only to Scouting volunteers and professionals. Scouters from Cub Scouting, Scouts BSA, Venturing, Sea Scouts, and Explorers, and district and council Scouters all are welcome and encouraged to attend. Wood Badge draws upon the most current leadership models used by corporate America, academia, and successful organizations.
Wood Badge builds upon the best traditions and experiences of the Boy Scouts of America and draws from a wide range of courses within and beyond the bounds of Scouting to present the latest in leadership theory and team development.
Who should attend?
Wood Badge is designed to meet the advanced leadership needs of all Scouters, particularly unit level Scouters, such as Cub leaders, Scoutmasters and assistants, Venturing Crew Advisors, Committee Chairs, and members. Additionally, Scouters serving at the district and council level can achieve greater effectiveness through leadership skills learned at Wood Badge.
To attend a Wood Badge course, you must:
• Be a registered member of the Boy Scouts of America.
• Have completed the basic training courses for your Scouting position.
• Be capable of functioning safely in an outdoor environment.
• All participants are required to complete the Annual Health and Medical Record form.
Why you should attend.
By taking Wood Badge, Scouters will acquire valuable leadership tools such as listening, communicating, conflict management, project planning and leading change. Participants will learn to better understand and appreciate diversity and inclusiveness for successful units. You will learn skills that will make you a better Scout leader. Units with Wood Badge trained leaders deliver an improved program and a more meaningful experience for the Scouting youth they serve.
By attending Wood Badge, the participants will internalize the five themes of Wood Badge:
• Living the Values,
• Growing,
• Connecting,
• Guiding,
• Empowering.
•
Why do you want to go?
You want to participate in a Wood Badge course because of the things you will learn and do. Here are some of the benefits:
• Stronger units. You will make your Scouting unit — and your sons' and daughters' units — stronger.
• What and why of Scouting. You will have a deeper understanding of what Scouting is and why we do it.
• Experience. You will learn and experience things that will stay with you in Scouting and the rest of your life.
• Fun. You will have fun and you will meet interesting people.
• Outside of Scouting. You will make the other parts of your life, like family and work, even stronger.
•
Wood Badge is for Cub Leaders,too.
How would you like to attend a training that takes you far beyond your Basic Leader Training? Wood Badge is here for you. Wood Badge is designed for all Scouting Program leaders, including Cub Scouts. It will help you better understand how all of Scouting's programs are linked. It will provide you with useful leadership tools to help your unit's youth have the best possible Scouting experience. There is no better time to attend Wood Badge and make a difference in your unit than NOW.